Flex your inner strength
May 16, 2019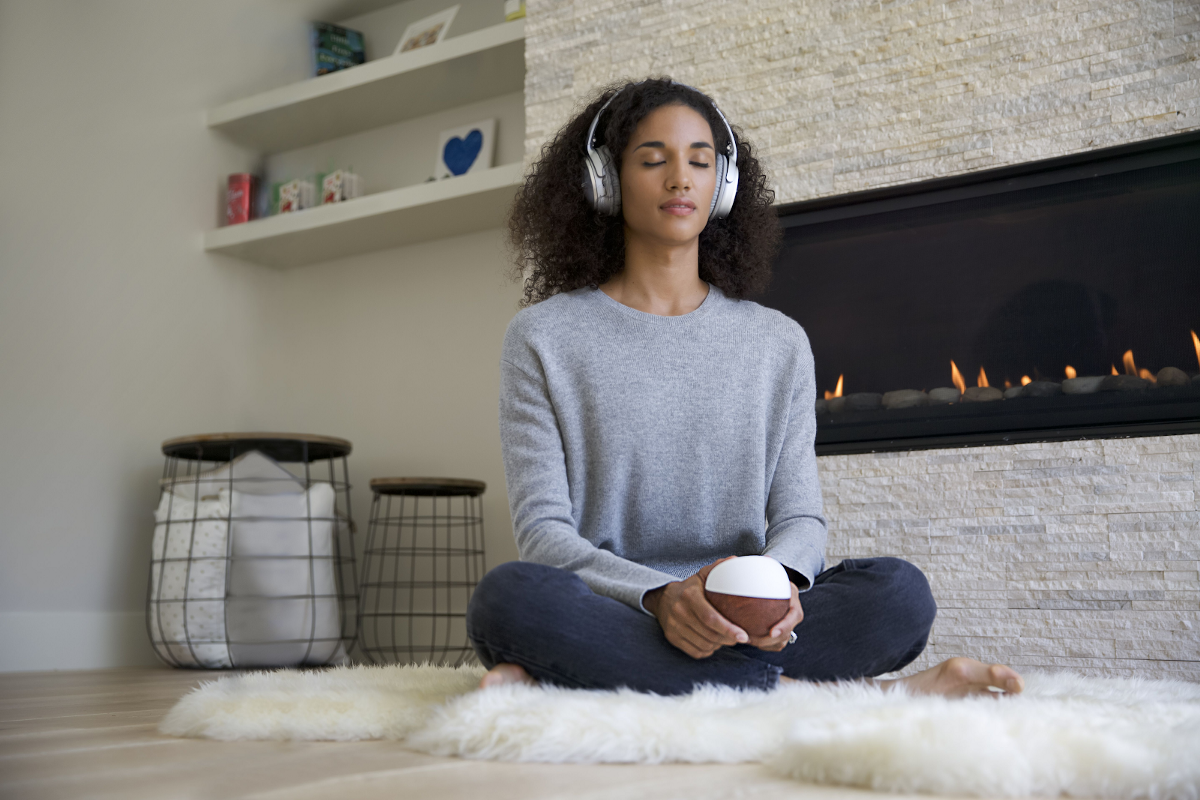 Core's first investor sits down with the CEO to talk mental wellness and explore what it has been like to write the first chapter of company history.
As the first investor in Core, I've had the privilege of watching the company transform from a concept into a company. Today, Core announces a $4M seed round lead by Spero Ventures, with continued participation from Bolt. In this interview, I sit down with Sarah McDevitt, CEO of Core, to reflect on the journey to now, and talk about what's next.
Kate: Let's start simple. What is Core?
Sarah: In a sentence, the purpose of Core is to cement mental wellness as a pillar of modern life.
More broadly, Core is a new meditation experience that gives you a tangible way to build a meditation habit. We mean meditation you can feel from holding Core in your hands, letting Core guide you through breathing techniques and different exercises with vibration and audio together, and then being able to connect more broadly with the community of people meditating with you. It's a really immersive experience.
The Core origin story
Kate: We met a long time ago at a Women in Hardware event, before you even started Core. How did you come to the original idea?
Sarah: I was still in grad school at Stanford, studying how to teach teenagers to meditate. I had this crazy idea about something physical, something tangible and kinesthetic that could help people of all ages learn how to meditate — and to stick with it.
The very first "prototype" was getting people together to meditate in a group and literally putting Play-Doh in their hands while I lead guided meditations. I wanted to see what their response would be to this basic tangible experience. From molding clay we went to foam models, still trying to work out what the right form factor would be the best at helping people focus during meditation sessions. This was still just us talking to people and getting things in their hands. Eventually, we introduced electronics, bio-feedback, and the content experience.
Bolt's VP of Engineering, Tyler Mincey, talked with Core's VP of Engineering, Bashir Ziady, to see what this journey looked like from an engineering point of view.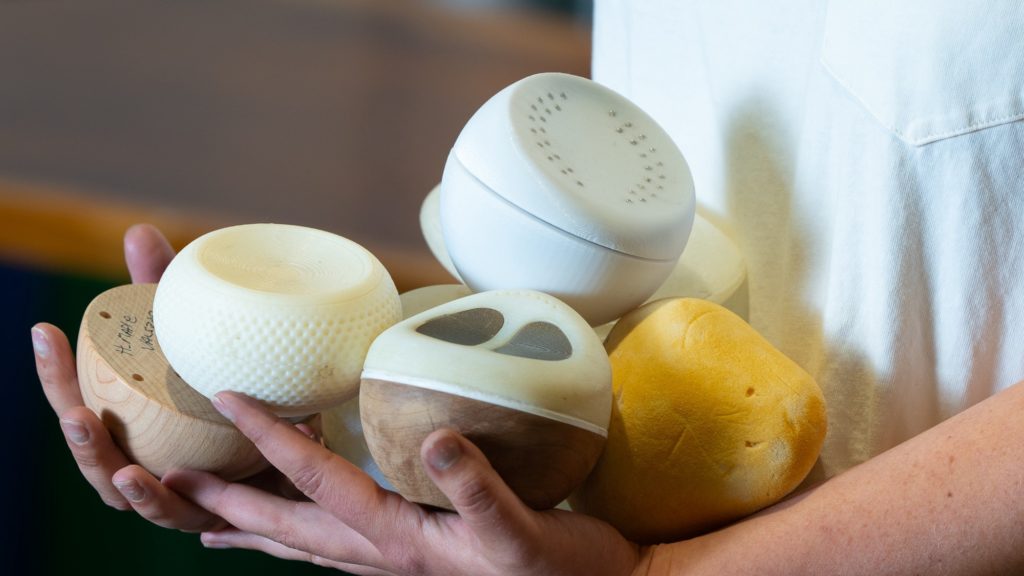 When we started to network with investors, I was getting feedback like, "All you need is a landing page and some renderings. You can throw it on Kickstarter and get a sense of product-market fit." There were so many reasons that that just did not resonate with me.
Even from the beginning, we knew that Core would have to be an amazing integrated experience — from the hardware to the software to the content. If we had rushed to put a piece of hardware out on Kickstarter before we really understood the full set of user needs, I think we would have set ourselves up to deliver an experience that just didn't fulfill them from a more holistic perspective.
Kate: You recruited an incredible team while running very lean. How did you do that?
Sarah: I think people want to work on meaningful things. Having a purpose-driven company and really aligning everyone around that purpose makes recruiting and working with great talent easier. Every candidate has "better" options that are going to be more stable and pay them more. We focused on understanding a candidate's goals, professionally and personally, and figuring out how we can be a part of those goals.
It's also really important to rally early candidates around the vision and what this tiny company can become if we build it together.
The mind-body connection
Kate: When you aren't leading your team at Core, you are conquering pretty incredible physical challenges. What drives you on that front?
Sarah: Physical challenges are also very mental, to me the most interesting aspect is at the intersection. I played college basketball and I still play today. The things that held me back in my basketball career weren't physical strength or skills, it was all mental. A big part of what drives me to build Core every day is wishing I had a tool like this back then.
I'm also a trail runner. Last summer I ran a 100-mile race up in the Canadian wilderness. The race is grueling, but again I'd say the battle is equally mental and physical. You have to be in tune with your body and meet challenges whenever they arise.
I think there's a gracefulness in toughness that I identify really closely with as an athlete. I think we are bringing that balance into the business.
Kate: We're both Brené Brown fans, and often talk about the relationship between courage and vulnerability. How does that show up for you as a founder?
Sarah: Embracing vulnerability was something I definitely had to learn. It was not natural to me when I was younger and still is a challenge. At Core, we are very driven around what we're doing, and we are pursuing excellence in the work that we do. But to us, part of pursuing excellence is being vulnerable in recognizing where you've failed, seeking help and resources, and then improving yourself. To recognize that as a hard-driving person and team takes vulnerability. It's also the best way to get better which, as a startup, is non-negotiable.
Kate: Why is now the right time for Core?
Sarah: At Core, we have a strong belief that taking care of your mind is an act of strength. More and more people are coming forward to talk about vulnerable mental wellness challenges. From celebrities to athletes, to performers, even the physically big tough guys— the NFL players, The Rock —are really talking about their own struggles in personal development with mental wellness. I think that's so important. It's something we encourage ourselves to do within our company so that we can be our best at Core.
Kate: You've taken a very thoughtful approach to recruiting investors to the cap table. How did that happen?
Sarah: In Silicon Valley there's a lot of different forms of capital for founders. From day one, we wanted to work with investors who really got the purpose and mission. We met you back in the Play-Doh days, and from the time we met until when you invested was more than six months. I was just learning from you and really getting to know you. There was resonance from the beginning, and we feel the same way about Shripriya Mahesh who will joining the board from Spero Ventures.
Cultivating authentic relationships is super important in every part of running this business from our investors to our partners, to our customers.
Even when we think about an influencer strategy around our brand, we're prioritizing very long term authentic relationships with people, rather than transactional relationships.
Building a brand for Core
Kate: Brand if critical for consumer companies. How did you build Core's brand?
Sarah: User-centered product development, which we did all in-house, was really the foundation for Core's brand. Until a few months ago we hadn't put any energy into the visual design or brought in outside talent…we barely had an Instagram account.
The soul of the brand is really about diving in the realness, vulnerability, and grit that is daily life. About going after ambitious goals, whatever that goal is for you.
That's the kind of realness that meditation helps you tune into and of course handle in a graceful way. From a brand perspective, we felt like there was a gap out there around that really strong sense of realness around mental wellness that we're very motivated by. It's been amazing to continue to express those beliefs through the brand.
Kate: I see your team meditating together, going running together, hanging out on Friday after work. It's cool to see the way Core's brand is lived through company culture. What sort of advice would you give to first-time founders?
Sarah: Our team is amazing — and that is tied to the advice I would give. Focus on the people. Identify what you're not highest leveraged to do and bring in great people to work on that. Trying to do everything yourself is not only risky for the company, but it is also a recipe for burnout. The more that I can be vulnerable and identify areas that we should bring someone stronger than myself in on, the more elevated the entire company will be.
---
Sarah opens each board meeting by inviting everyone to meditate with Core. Since leading Sarah's pre-seed round, I've gotten to feel the product progress from static orb to a truly immersive experience. Empowering concept-stage entrepreneurs like Sarah with capital and company-building support at Bolt is an honor and a privilege.
If you haven't had the chance to meditate with Core, flex your inner strength and get on the waitlist. Until then, you can read about making mental wellness a pillar of modern life on Good Pillar, a blog by Core.
Inspired to join us on this journey? Core is hiring!
---
---
---
Bolt invests at the intersection of the digital and physical world.
---